Pastor Obinim Somersaults After Member Wins ₦230Billion With Lotto Number He Gave Him (Video)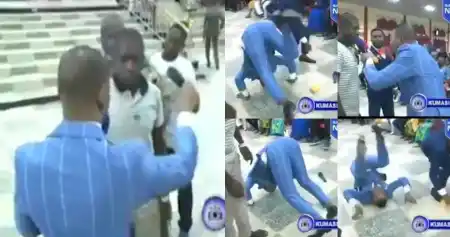 Author:
Moses Oluwafemi
Comment(s): No Comment s Yet
Views: 0 Views
On: June 14, 2018
Category:
Entertainment
,
News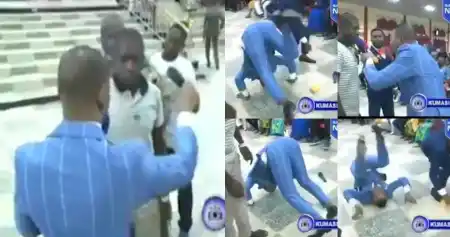 The head of the International Godsway Church Pastor Daniel Obinim whom the wife once claimed to be an angel with foresight and is known to perform miracles has done it again.
The Ghanaian man of God was said to have encouraged his church member to play lotto game.
The lucky man with faith played the game and surprisingly on himself 3 billion Cedis which is N230,325,075,600 when converted to Nigerian currency.
The elated clergyman could not believe his ears when the lucky man came to give testimony in church that he somersaulted thrice.
Another man was seen joining him in the exercise.
Watch the video below;
Ghanaian Pastor somersaults after His Church Member wins N230billion with the lotto number he gave him… follow us @GossipMillNaija to get all our updates first
A post shared by Gossip Mill Nigeria (@gossipmillnaija) on Jun 9, 2018 at 1:23pm PDT
Hits: 4
---
Share This On
Copy Code Below To Repost / Rebroadcast &
Share
We Are Worldwide And Fully Updated. For More Updates
Check Out Our Offers, Well Packaged
Related Posts
No Comment Yet, Be The First To Comment.